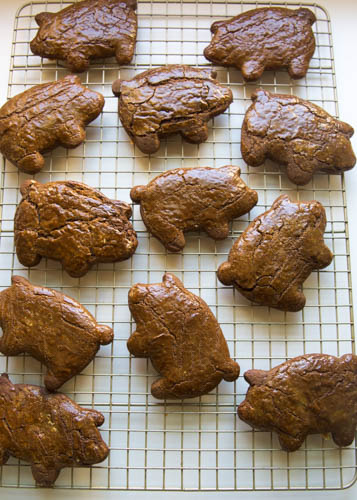 This is a live, interactive, hands-on cooking class held online via Zoom. See our event policies at the bottom of this webpage.
If you miss pan dulce and always thought baking Mexican sweets was only something that might happen when pigs fly, this is the class for you! Leaning on two staples of any panaderia, Annelies Zijderveld will walk you through how to make Chanchitos (aka Puerquitos or Marranitos)—whatever you call these soft gingerbread cookies shaped like puffy pigs, they're spiced just right! Then, you will make Empanadas de Calabaza (sweet pumpkin stuffed empanadas). Because Annelies always adds a twist to tradition, you'll have an option for chocolatey Cochinitos and savory pumpkin filling for the empanadas in a choose your own adventure approach. Get into the autumn spirit in this fun interactive baking class.
PS—If you're getting to class straight from work but before dinner, let us know by sending us an email. Annelies can make suggestions for empanada fillings to make dinner a cinch.
MENU
Cochinitos: Soft Gingerbread Pigs with ginger and molasses
Empanadas de Calabaza, featuring pumpkin and cinnamon
For the equipment and Ingredient List for this class click here.
This menu contains the following common allergens: Egg, Dairy, Wheat. If you have allergies or dietary restrictions that concern your ability to cook along, please e-mail info@18reasons.org before purchasing a ticket.
---
If you're new to 18 Reasons Online, please read this guide: How to Take an Online Class at 18 Reasons. Five calendar days before class, 18 Reasons may decide to cancel this class if not enough tickets are sold. We will notify registrants by email about cancellations.
---
Annelies Zijderveld believes cooking should be fun and flavorful, (and still can't quite get over the amazing abundance of fresh produce and ingredients available to us in the Bay area). With a master's in intercultural studies and a Mexican-Bolivian-Dutch heritage, she's keen on finding the points of intersection around the table. Her food writing has recently appeared in Edible East Bay, The Kitchn, and San Francisco Classical Voice. Her online cooking journal, EatMoreMeatless.net explores creative and doable ways for all trying to eat more vegetables. Find her online at Instagram @anneliesz.
Photo credit: Annelies Zijderveld