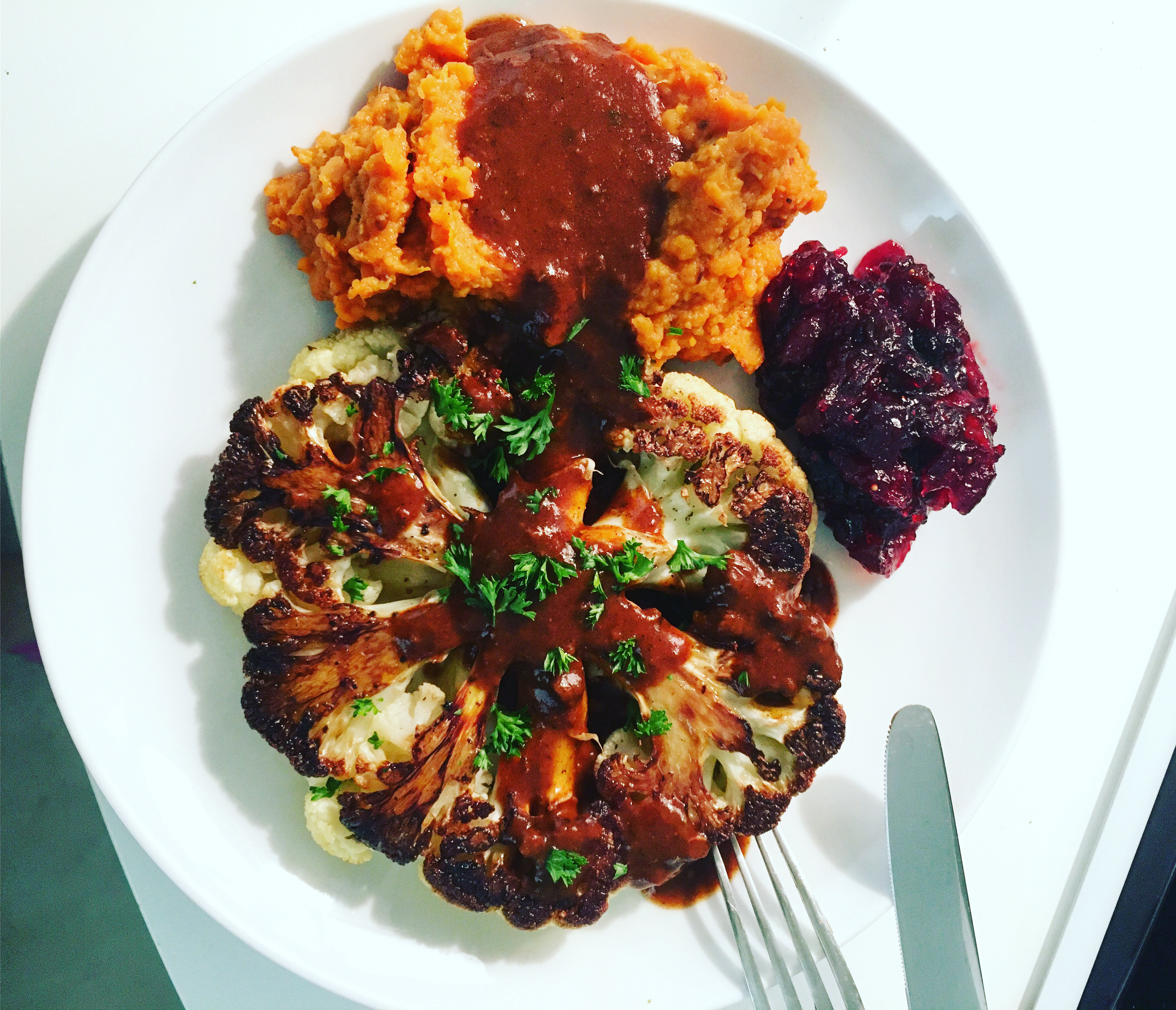 This is a live, interactive, hands-on cooking class held online via Zoom. See our event policies at the bottom of this webpage.
Celebrating the fall holidays with festivity this year might mean a few less people at the table, but that doesn't mean being any less flavorful. Join Annelies Zijderveld who lives for bringing more veggies to mealtime in interesting ways.
In this class, you'll make a boozy cranberry sauce with figs and tequila, chipotle mashed sweet potatoes, and the crown of the main course: cauliflower steaks with chile gravy. This is one class where no one will miss the meat and give you fresh inspiration for Thanksgiving.
MENU
Cauliflower Steaks with Ancho Chile Gravy
Chipotle Mashed Sweet Potatoes
Cranberry Sauce with Figs and Tequila
*Menu can be easily made Vegan, Gluten-Free, or Dairy-Free. Menu is free of egg, soy, tree nuts, peanuts, and corn.
For equipment and Ingredient List for this class click here.
This menu contains the following common allergens: Tree Nuts, Dairy, Wheat, If you have allergies or dietary restrictions that concern your ability to cook along, please e-mail info@18reasons.org before purchasing a ticket.
---
If you're new to 18 Reasons Online, please read this guide: How to Take an Online Class at 18 Reasons. Five calendar days before class, 18 Reasons may decide to cancel this class if not enough tickets are sold. We will notify registrants by email about cancellations.
---
Annelies Zijderveld believes cooking should be fun and flavorful, (and still can't quite get over the amazing abundance of fresh produce and ingredients available to us in the Bay area). With a master's in intercultural studies and a Mexican-Bolivian-Dutch heritage, she's keen on finding the points of intersection around the table. Her food writing has recently appeared in Edible East Bay, The Kitchn, and San Francisco Classical Voice. Her online cooking journal, EatMoreMeatless.net explores creative and doable ways for all trying to eat more vegetables. Find her online at Instagram @anneliesz.
Photo credit: Annelies Zijderveld