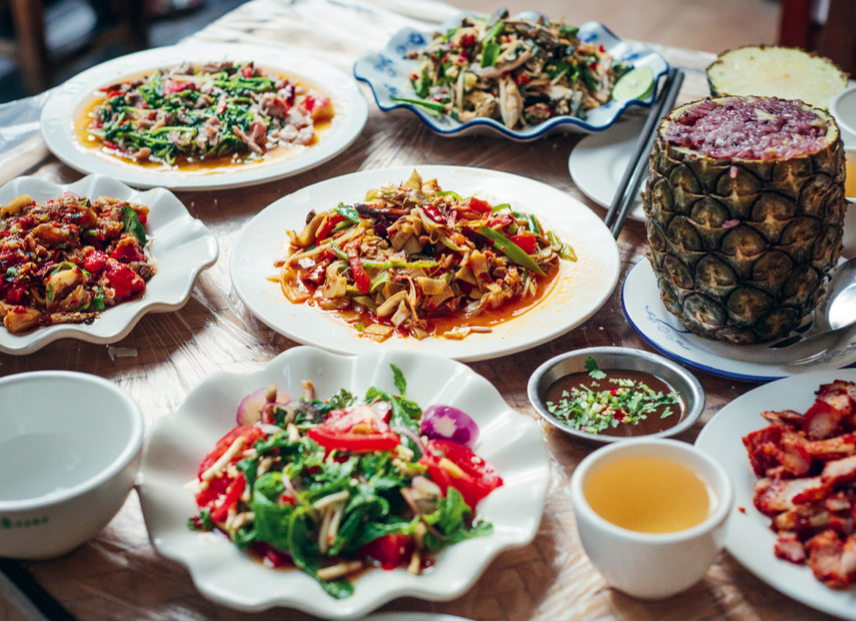 This is a live, interactive, hands-on cooking class held online via Zoom.
China's Yunnan Province is a small, mountainous region that sits right where East and Southeast Asia meet. Yunnan is the most culturally and biologically diverse part of Asia, and the region is quickly becoming one of China's top spot for food-focused tourism.
This class will take us on a trip to China's borders with Myanmar and Laos. The recipes (taken from Georgia's cookbook, Cooking South of the Clouds) are flavored with lots of fresh herbs and chiles and offer a relatively simple way to start to appreciate this subtropical region's flavors and cooking techniques. If you're interested in purchasing the book, support our friends at Omnivore Books and find the book here.
MENU
Stir-Fried Beef with Fresh Herbs and Chiles
Roasted Eggplant, Pepper, and Tomato Salad with Fresh Herbs, Chiles, Garlic, and Vinegar
Steamed Jasmine Rice -or- Steamed Sticky Rice
Equipment and Ingredient List for the class found here - check before signing up for the class. 
This menu contains the following common allergens: Wheat (can be GF if you use a GF soy sauce) If you have allergies or dietary restrictions that concern your ability to cook along, please e-mail info@18reasons.org before purchasing a ticket.
---
If you're new to 18 Reasons Online, please read this guide: How to Take an Online Class at 18 Reasons. Five calendar days before class, 18 Reasons may decide to cancel this class if not enough tickets are sold. We will notify registrants by email about cancellations.
---
Georgia Freedman is a freelance journalist based in the Bay Area and the author of Cooking South of the Clouds—Recipes and Stories from China's Yunnan Province (Kyle, 2018). An avid student of Chinese food and culture, Georgia has been traveling to China regularly since 2000 in order to learn about the country's diverse foodways. In 2011 she left her position as managing editor of Saveur magazine and moved to Yunnan for two years to further explore the area's foods and traditions. Georgia's writing has appeared in the Wall Street Journal, Afar, Martha Stewart Living, Saveur, Roads and Kingdoms, and other food and travel publications. She returns to Yunnan regularly and continues to write about food and travel there at chinasouthoftheclouds.com
Photo credit: Georgia Freedman