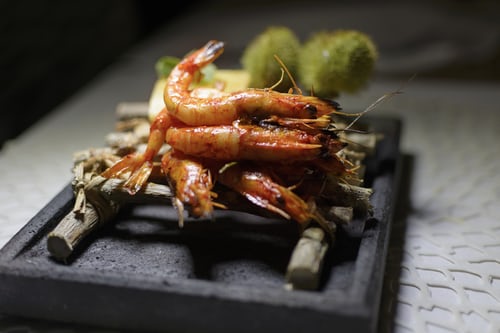 Update 4/6/2020: This is a live, hands-on cooking class held online via Zoom. The Instructor will be assisted by a remote Event Lead who will facilitate conversation during class and ensure all students are attended to. We encourage students to have all the ingredients and equipment set up before the class begins to prepare for cooking during the class. We will be recording the class and we hope to make the recording available to students after an editing process to protect the privacy of our students' homes.
Malaysian dishes are notorious for its laborious recipes.  Here we have picked several delicious recipes that are five ingredients and under (assuming you have a pantry of salt, sugar, oil, soy sauce and sesame oil to start with), and we can create a delicious Nyonya meal. Yes, it is possible!
MENU
Cucumber pickle
Curry Powder Chicken Wings - Oven-roasted marinated wings
Short Rib Pong Teh - Braised short ribs in a spicy, soy-miso sauce
Tamarind Prawns - Demo only (Linda will be cooking during the lesson, but we won't have time to cook along together due to the time constraints of the class)
Coconut Rice
This menu contains the following common allergens: shellfish, soy, nuts and wheat. Let us know if you're allergic to anything by sending us a note at info@18reasons.org before purchasing a ticket.
Ingredients and equipment needed for the class listed here. Please review before class and reach out with any specific questions!
Linda Tay Esposito is teaching chef whose food represents a tribute and a commitment to the authenticity of the cuisines of the Pacific Rim.  For the last 15 years, Linda has shared her passion and knowledge of South East Asian cuisine in the Bay Area and her work had been featured in KQED Bay Area Bites, the New York Times, etc. Linda taught at the The Cooking School at Cavallo Point and at Sur La Table Cooking School, and was a lead chef at Parties That Cook where she taught global cuisines in a team building setting. She started her teaching career at Whole Foods Market. Most recently she was the head of operations and chef at Bay Area's artisan tofu maker, Hodo. She currently leads the development of La Cocina's municipal marketplace – using food as a creative approach to economic development by offering affordable, healthy food options and safe spaces while providing assessable business opportunities for low income, immigrant, women food entrepreneurs. She writes a food blog at www.flavorexplosions.com and you can follow her on Instagram @flavor_explosions
Photo by Andrés Medina on Unsplash