Cracking the Cookbook: Joshua McFadden's Six Seasons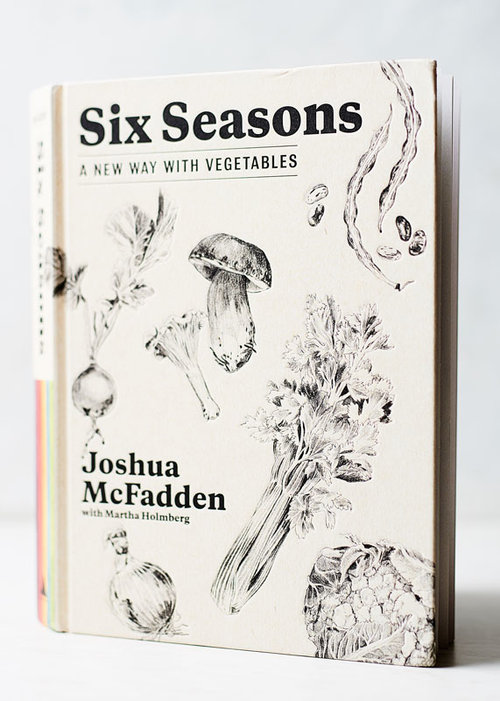 A hands-on class culminating in lunch served with wine and beer. Students will work in teams to complete the recipes, and will be encouraged to jump between recipes to learn as they'd like.
Hailed on many lists as one of the best cookbooks released in 2017, Camila has been cooking like crazy from Six Seasons since she got it as a birthday gift from her husband. The author's premise is that for fresh vegetables there are not four, but six seasons, with summer dividing into 3 seasons: early, mid and late. McFadden, who worked at Blue Hill in NY before moving to Four Season Farm on the Maine coast, reveals inventive flavor combinations that are not difficult to prepare at home. He gives basic lessons that your kitchen will be happy to receive, via Camila's interpretation. Come cook out of this beautiful book; we will focus on the current season, with some timid incursions into other close ones as well, given that the seasons never divide themselves as neatly as one might think. 
MENU
Grilled Artichokes with Artichoke-Parmiggiano Dip
Asparagus, Nettle and Green Garlic Frittata
Toast Two Ways: English Peas with Whipped Ricotta, and Smashed Favas with Pecorino and Mint
Leeks with Anchovy and Soft-Boiled Eggs
Radishes with Tonnato, Sunflower Seeds and Lemon
Beet Slaw with Pistachio Butter 
Note: You do not need to own a copy of this book in order to participate. We will not have books available for purchase.
Camila Loew holds a Ph.D. in Humanities and is a certified nutrition consultant. She lived in Barcelona for 15 years, and learned, through health-supportive culinary schools in Spain and NY, but mostly by cooking from local markets, that the best cooking relies on simple recipes with outstanding ingredients. That's the Mediterranean way she conveys in her classes, along with the concept of sobremesa, which happens to be the name of the company she runs. Sobremesa is the leisurely time we spend gathered around the table. In addition to running Sobremesa and Sobremesa Culinary Tours (through which she offers food-centric journeys across the ocean for fellow food-loving travelers), Camila teaches her love of regional Spanish and Mediterranean cuisines at The Cooking School at Cavallo Point, Ramekins Culinary School, and Bauman College as well as 18 Reasons. She also teaches Eating for Healing at the Cancer Support Community. For more info visit sobremesa.us  and sobremesa-tours.com.