Community Can Jam: Marmalade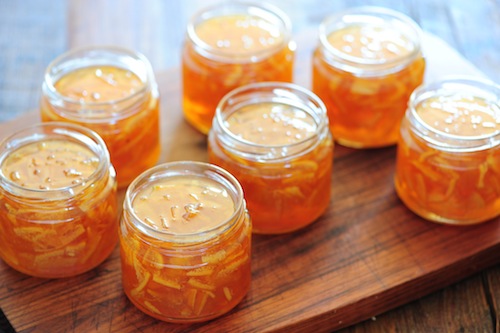 A hands-on class culminating in a shared light meal of with wine and beer while we wait for the canners to finish sealing our freshly made preserves! Students will take home hot jars home, so be prepared.
Marmalade season is upon us! The market shelves are overflowing with a plethora of exciting citrus, and we are ready to preserve it for the year ahead. And while we rather like the meticulous, meditative work - the chopping and juicing, slicing and simmering - for many folks it is hot messy work, best done is with a group of likeminded friends and managed by knowing, watchful eyes.
Our Community Can Jam is just that experience. It's not a typical class, exactly, though jam-master Shakirah Simley will be on hand to guide us through her recipe. Rather, it's an old-fashioned community gathering that will include equal parts socializing, learning, and standing over a hot pot. We'll be making a giant batch of marmalade, and every participant will take home jars.
Hearty snacks, wine, and beer will be served. Have garden or fruit tree excess? Feel free to bring and share with your classmates!
Shakirah Simley is a long-time preserving instructor for 18 Reasons and former Canner in-Residence for Bi-Rite, in charge of its recipe development and production for its PUBLIC label line. Named one of Zagat's "30 under 30" in 2013, she is also a certified Master Food Preserver though the UC San Mateo/San Francisco County Extension.
Beyond jam, Shakirah is a community organizer and writer and has a over a decade of experience working on food equity policy issues, as well with labor and national youth organizing campaigns. She is a 2017 recipient of the Exchange Fellowship with Stone Barns Center for Food and Agriculture, and the co-founder of Nourish|Resist, a multiracial organizing collaborative dedicated to using food spaces and people as tools for collective resistance. She is the former Community Programs Manager for Bi-Rite, an independently-owned, family of sustainable food businesses in SF. She received her Master's degree via a Fulbright scholarship to the University of Gastronomic Sciences in Bra, Italy and received her undergraduate degree from the University of Pennsylvania. Shakirah currently manages community benefits programs that prioritize environmental justice and equitable economic development for the San Francisco Public Utilities Commission. Her writing has appeared in the Huffington Post, Civil Eats, SF Chronicle, and the recently published, Feed the Resistance.