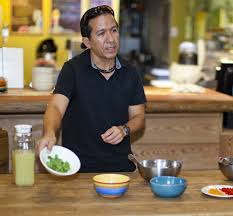 Peruvian Pop-Up
A seated dinner, prepared by Nico Vera. Wine and beer will be served.
Friday, May 30, 6:30-8:30pm Tickets: $25
Join local chef Nico Vera for a night of a classic Peruvian food! Throughout the evening Nico will be talking about the history of these dishes, while a slide-show presents photographs from hi recent trip to Peru. And, of course, a criollo dinner would not be complete without some Afro-Peruvian tunes playing on the radio.
The evening's menu is inspired by the flavors of spring, and will feature Seco de Cordero, a Peruvian lamb stew, alongside steamed rice, frejoles and a salad of seasonal greens.
Born in Peru and based in San Francisco, California, Nico Vera is the founder, food writer, and chef for Pisco Trail, where he specializes in Peruvian cuisine and Pisco mixology. Pisco Trail's mission is to promote Peruvian food and culture through pop-ups, dinners, classes, and events that are a gastronomical tour of Peru's cuisine and its unique culinary history. He shares his adventures and recipes on his blog piscotrail.com where he invites you to visit and learn more about Peruvian food and Pisco cocktails. You can also find Nico on his blog: http://www.piscotrail.com/