Malaysian Street Foods: Ramadan Markets - In Person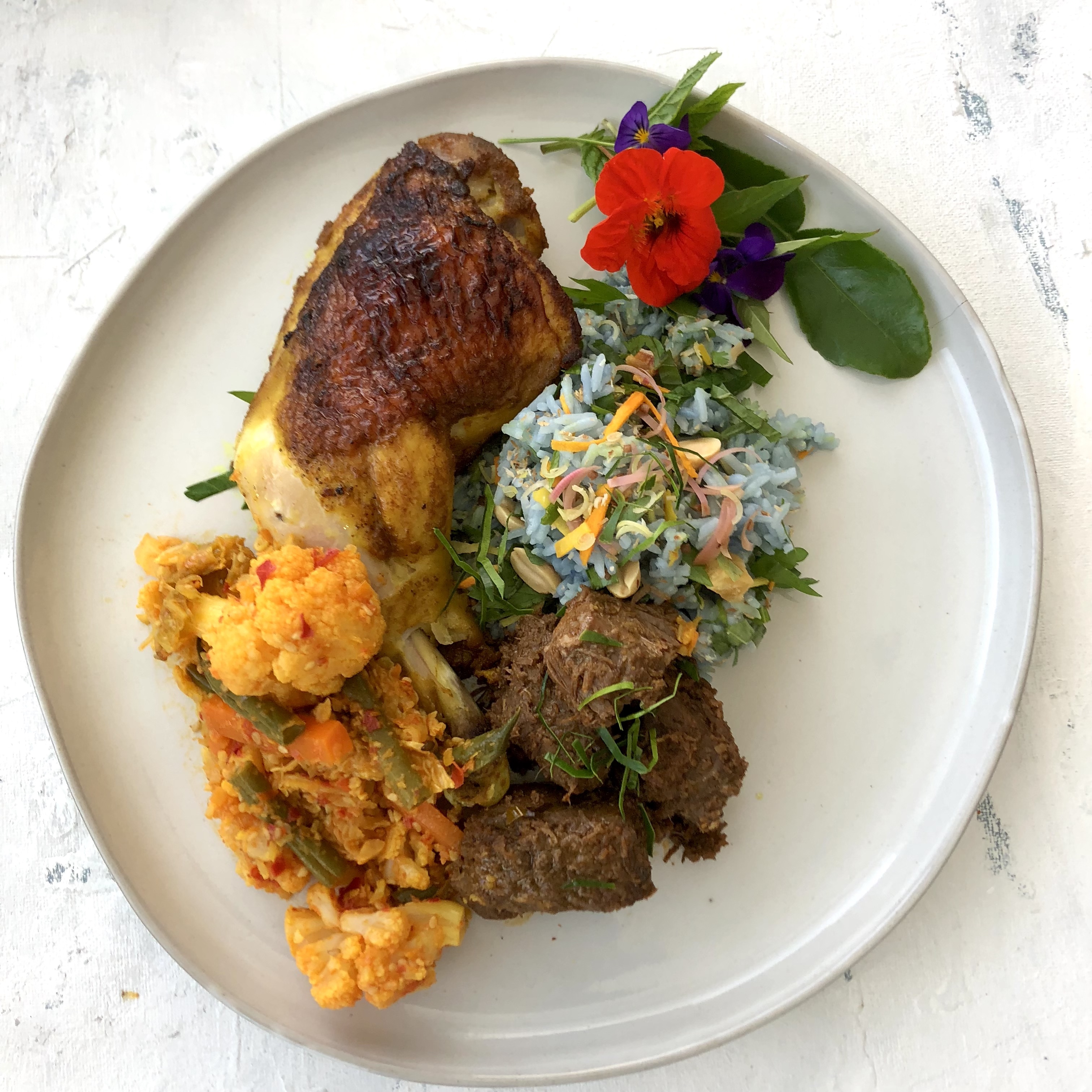 A hands-on in-person cooking class culminating in a dinner served with wine and beer. This class is limited to 12 students. Review our registration and cancellation policies here. Masks are recommended.
In Kuala Lumpur, street markets pop up all over the town during the month of Ramadan with delicious foods for breaking fast. From snacks, drinks and a dazzling variety of curry dishes, observers of the Muslim calendar purchase these foods to eat after sunset. These markets allow busy families, fatigued from a full day of fasting, to have a great iftar meal, without having to prepare food at home. Linda selected a few typical dishes found in these markets exclusively during the Ramadan season; due to the limited availability, all of these foods are enjoyed by locals, regardless of their faith and religious practice. Cook these Malay dishes with us and experience a bit of the delicious night life during this time of year.
MENU
Acar—Warm, Tangy Salad of Cauliflower, Cucumber, Carrots, Eggplant, Long Beans in a Spicy, Peanut and Sesame Sauce
Ayam Goreng Kunyit—Turmeric and Ginger Marinated Fried Chicken 
Kerutuk Kambing—Malay-style Goat Curry with Kerisik Toasted Coconut (may be substituted with Lamb if Goat is not available)
Nasi Kerabu—Blue Pea Flower Stained Rice, tossed with Aromatic Asian Herbs, Salted Fish, Toasted Coconut. Served with a fresh sambal.
Air Bandung—Rose Water Sweet Milk with Basil Seed Gel
This menu contains the following common allergens: Shellfish, Peanuts, Dairy, Wheat. If you have allergies or dietary restrictions that concern your ability to cook along, please e-mail info@18reasons.org before purchasing a ticket.
Let's Cook Together! 
Linda Tay Esposito is a teaching chef whose food represents a tribute and a commitment to the authenticity of the cuisines of the Pacific Rim. For the last 18 years, Linda has shared her passion and knowledge of East and Southeast Asian cuisines in the Bay Area by teaching at many notable cooking schools in the Bay Area. An all around food professional, Linda expanded the distribution for artisan tofu maker, Hodo Soy, and led the development of La Cocina's municipal marketplace, where she uses food as a creative approach to economic development. Linda's specialties include Malaysian cuisine, Chinese cuisine, various Southeast Asian cuisines, and private classes and dinners at 18 Reasons.
Photo credit: Linda Tay Esposito