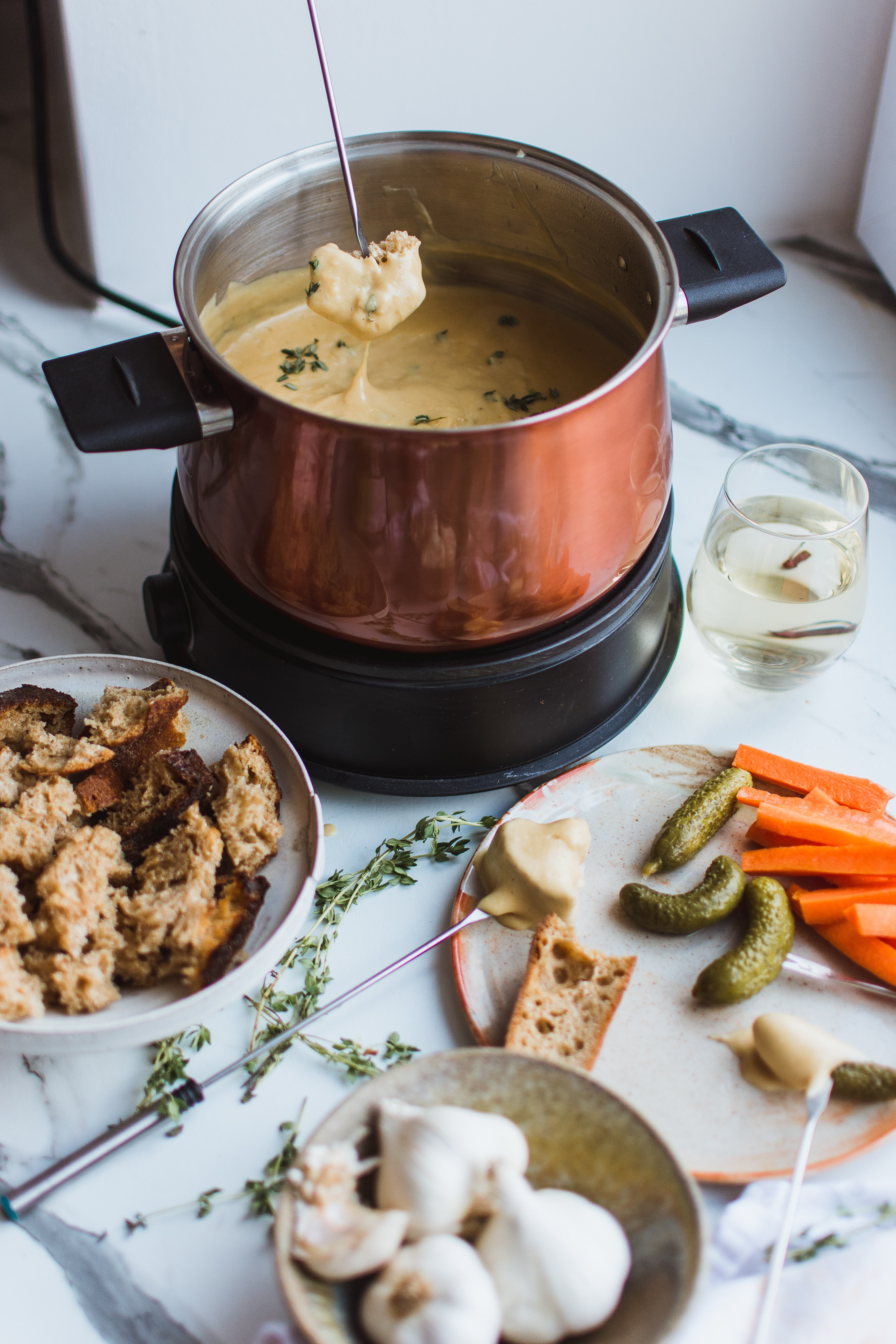 This is a live, interactive, hands-on cooking class held online via Zoom. See our event policies at the bottom of this webpage.
Winter is the best time to enjoy hot, oozy cheese in the comfort of your own home, and sparkling wine loves rich, cheesy dishes. In this class we'll talk all things cheese and fondue, melt cheese and wine together, then toast to our new, amazing fondue skills with a glass of bubbles. We'll start with covering the fondue basics from cheese melting science to the battle over which country really has the true fondue recipe. Then we'll make our own fondue and a light salad for dinner, and chat fondue and wine pairing.
Equipment and Ingredient List for this class can be found here.
No need for a fancy pot made exclusively for fondue. If you have a portable burner that you can place in your dining area, that is ideal (think camping stove or hot plate). If not, drag some chairs to the stove and get ready to dig in! 
This menu contains the following common allergens: Dairy. If you have allergies or dietary restrictions that concern your ability to cook along, please e-mail info@18reasons.org before purchasing a ticket.
---
If you're new to 18 Reasons Online, please read this guide: How to Take an Online Class at 18 Reasons. Five calendar days before class, 18 Reasons may decide to cancel this class if not enough tickets are sold. We will notify registrants by email about cancellations.
---
Author of It's Not You, it's Brie: Unwrapping America's Unique Culture of Cheese, Kirstin Jackson is a cheesemaking teacher, wine and cheese educator, and writer. She loves teaching people how to make ricotta and creamy burrata pillows as much as she adores pairing her new favorite local cheese with wine. She blames her parents who took her on trips to the California dairy country at a very young age for feeding her current obsession.
Photo by Klara Avsenik on Unsplash