Basic Knife Skills: Two Day Workshop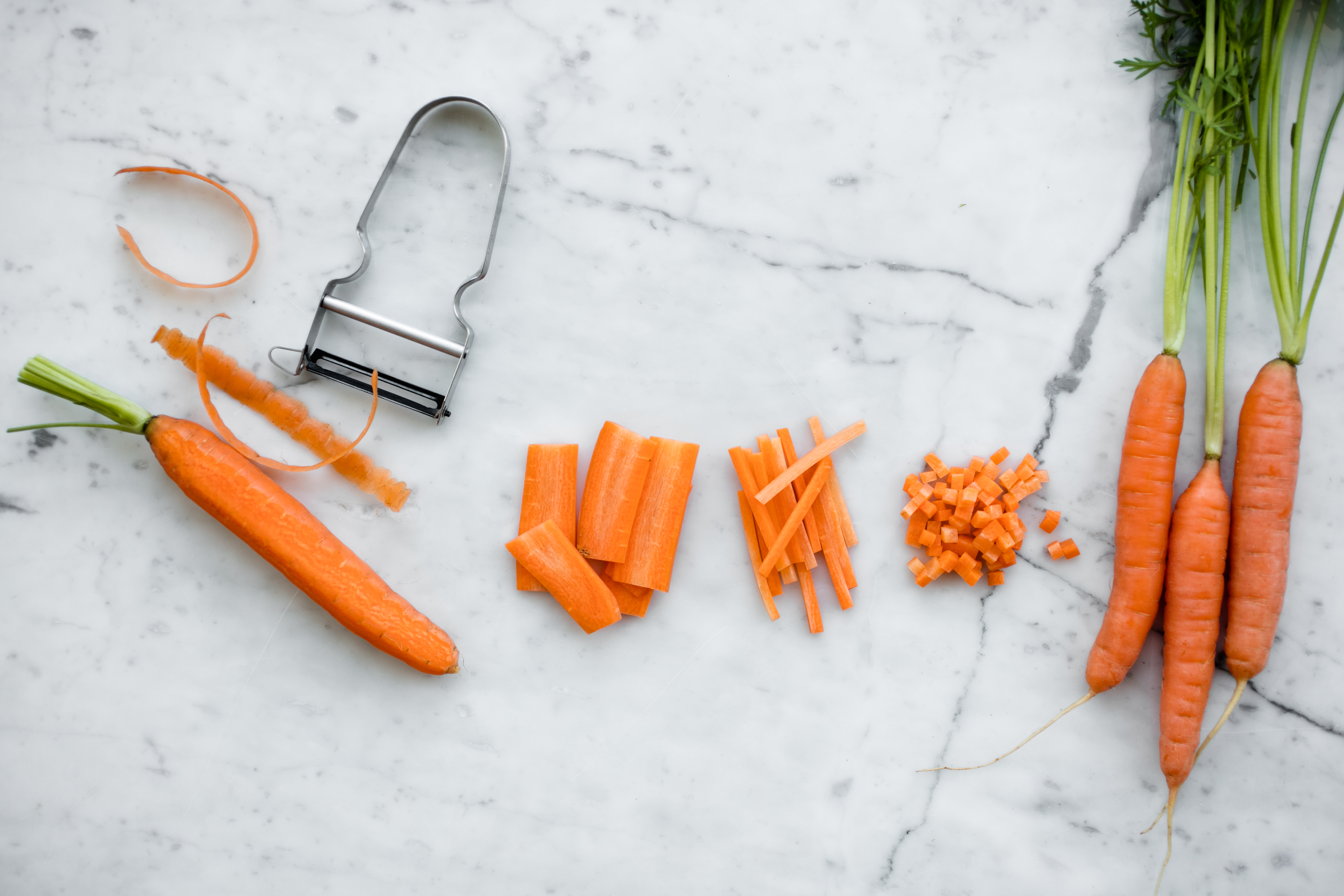 This is a live, interactive, hands-on cooking class held online via Zoom. See our event policies at the bottom of this webpage.
Join 18 Reasons Chef and Culinary Instructor, Mike Weller, for a suite of classes in the basics of using your chef's knife at home! Remember all those things you promised yourself you would do while spending hours locked in your house? Here is a chance to click one off the list before you return to the water cooler.
In our first class, we will discuss the ins and outs of knife use, care and safety. You will walk away knowing how to maintain a sharp edge and the best way to cut vegetables and herbs. We will put all the freshly-cut produce together into a fantastic salad of crunchy vegetables and crispy shallots, and celebrate our success with a toast at the end of class. 
Learning knife skills in one class session is a good start. But we know that without practice, those new skills won't become habits. After the first class, you will complete three homework assignments at your own pace: building a fantastic caramelized onion soup, garnishing a pork schnitzel with tropical fruit salsa, and making a pavlova dessert from supremes of citrus fruit. The homework is designed to give you structure to study and practice on your own and is designed to build on what you learned on day one. You will receive the recipes and a video covering each of these assignments and can check in with Chef Mike and other students throughout the process via email and a private WhatsApp group.  
Finally, on July 9th, we will come together again over Zoom to celebrate our new skills with a class based on a delicious Shakshuka and a Tabbouleh salad – two dishes which might have been challenging before, but will now be a breeze with our new skills. And these skills will be yours from this class on, so a future of kitchen joy and terrific dinner parties is yours!
Day 1 – Saturday June 26th, 4-6 pm PDT – Menu:
Spicy Cabbage Slaw, Deep-Fried Shallots, Punchy Lime Vinaigrette
Homework Assignment #1:
Caramelized Onion Soup, Roasted Garlic Crostini
Homework Assignment #2:
Pork (or Tofu) Schnitzel with Tropical Fruit Salsa
Homework Assignment #3:
Pavlova of Citrus Fruits with Citrus Curd
Day 2 – Friday July 9th, 6-8 pm PDT – Menu:
Shakshuka – Eggs Poached in a Spicy Tomato Pepper Stew
Tabbouleh – herb and bulgur wheat salad
Equipment and Ingredient List for Initial Class Day linked here - please check before purchasing tickets for class
Equipment and ingredient list for homework linked here - please check before purchasing ticets for class
Equipment and ingredient list for final day of class linked here - please check before purchasing tickets for class
This menu contains the following common allergens: eggs, dairy, soy, wheat If you have allergies or dietary restrictions that concern your ability to cook along, please e-mail info@18reasons.org before purchasing a ticket.
---
If you're new to 18 Reasons Online, please read this guide: How to Take an Online Class at 18 Reasons. Five calendar days before class, 18 Reasons may decide to cancel this class if not enough tickets are sold. We will notify registrants by email about cancellations.
---
Born in the Haight Ashbury neighborhood of San Francisco, Mike Weller grew up in suburbs of San Jose, where he discovered cooking as his first profession and lifetime passion. After wandering through typical teenage jobs at pizza joints and ice cream parlors, Mike's first "restaurant" job was with Sambo's Coffee Shops, slinging hash and cooking eggs for the bar rush and Sunday breakfast crowds.  He moved on to help open several restaurants, attend the California Culinary Academy, and study under European chefs with Michelin backgrounds. Later, Mike served as an executive chef for catering companies, wineries and country clubs.  When his son was born, Mike transitioned his career into teaching, returning to the CCA where he eventually became the Executive Chef and Director of Academics. Mike also returned to school for training in his new field, earning a Master's Degree in Education. Having taught for Le Cordon Bleu North America in both online and brick and mortar schools, Mike is thrilled to return to teaching in a neighborhood-based community.  When he is not teaching he reaps the benefits of his backyard garden, kept in perfect order by his Master Gardener wife.