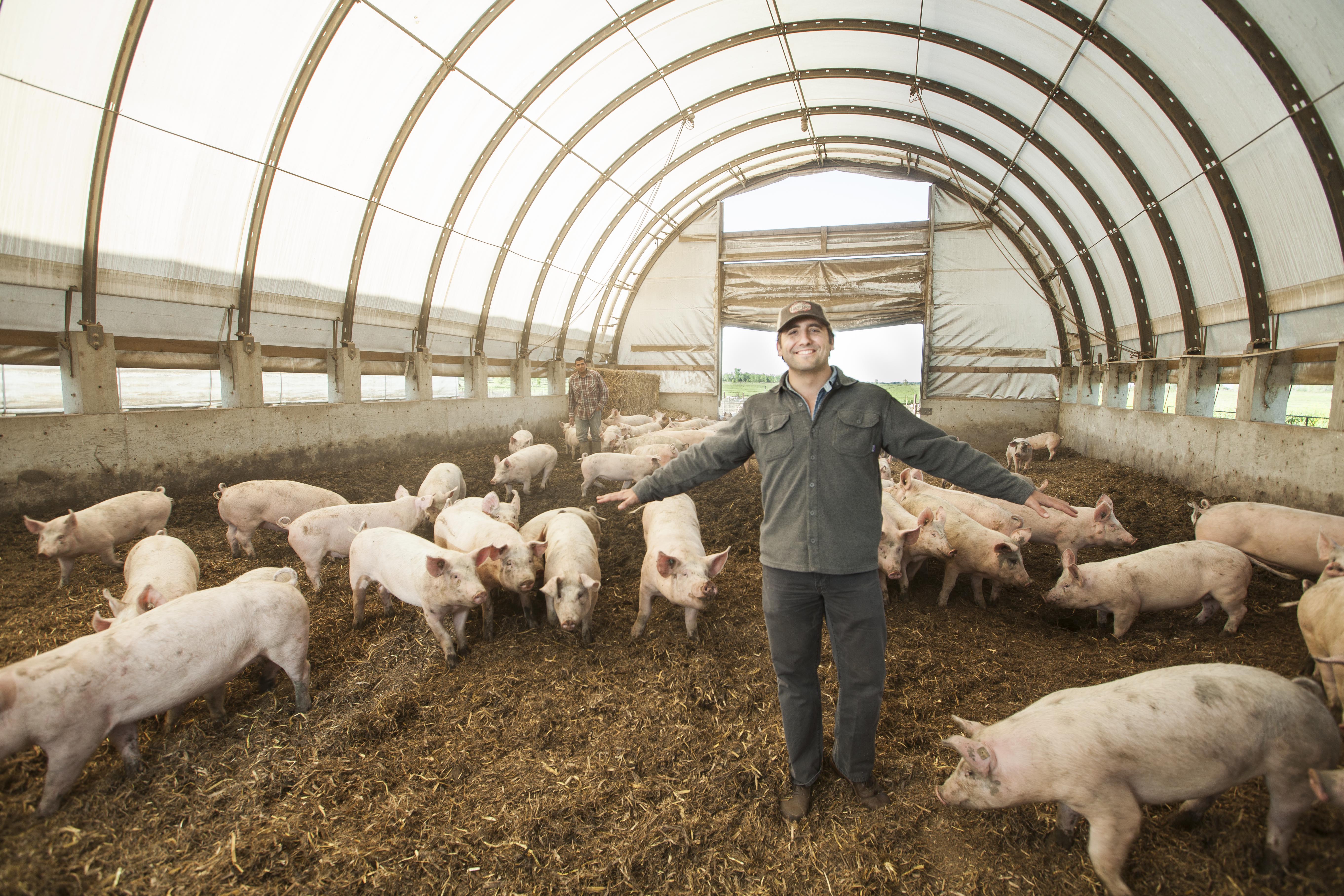 A three-course dinner. Wine and beer will be available for sale, or you may BYOB.
For meat producers mindful of the environment and animal welfare, nose to tail dining is common sense. However, not every shopper in a grocery store has the courage to purchase certain cuts of a pig, like organ meats and backfat, and cook something delicious. Join us for lively conversation over dinner and some kitchen show-and-tell to become a more fearless and conscious cook and eater.
We're delighted to host two producers to dine with our community: Eric Miller of Makers Common and Charlie Thieriot of Llano Seco. They'll share their knowledge and enthusiasm for intimidating parts of pigs. There will be opportunities to enter the kitchen to see Eric butcher and prepare pork chops to give you ideas for your next kitchen adventure.
Dinner will feature Llano Seco's bounty and will be cooked by Eric Miller.
MENU
Amuse:
Crispy Pork Skin
Appetizer:
Blood Sausage Bonbon with Herb Salad and Winter Citrus dressing
Main Course:
Thick-Cut Pork Chop, Ancient Grain Risotto, Seasonal Fruit Mostarda
Dessert:
Bi-Rite Creamery's Orange Cardamom Ice Cream with Blood Orange Olive Oil & Sea Salt  
Eric Miller is the director of the in-house charcuterie program and cheesemonger at Mission Cheese. After escaping his former cubicle life, he is now creating traditional charcuterie items with an American flair, along with pickles, and dessert items, and other delicious items as part of his new project, Maker's Common. A native New Yorker, Eric has spent numerous hours helping educate the masses about the art of meats and cheeses at the legendary Murray's Cheese. As an enthusiastic transplant to the west coast, he's always excited about bringing his New York know-how to San Francisco's fresh food scene. Today, he's taking charcuterie even further. There's nothing more sustainable to him than using every part of an animal to create something nourishing, delicious, and beautiful.
With a background in newspapers, not only as an editor at the foreign desk for the Buenos Aires Herald but also in sales and advertising for the Houston Chronicle, Charlie Thieriot knows the importance of getting a message out. In 2009, Charlie began to help on the management side of Llano Seco Meats, and the branded products department of his family's operation.  In 2013, Charlie launched the production of Llano Seco heirloom beans and has now begun ancient grains cultivation and milling. Working closely in partnership with the Non GMO project and also as a member of Global Animal Partnership, it is imperative for Charlie to be able to talk about the importance of supporting a local and humane pig husbandry industry.